Imagine you had only five seconds to capture someone's attention. What would you say? Sounds pretty challenging, right?
What if we told you that capturing their attention was only half the battle. Within those five seconds, you need to capture their attention, pique their interest, and become memorable.
We know what you're thinking — that sounds damn near impossible!
That was the focus of our latest podcast on The Art of Making Things Happen with Steve Sims.
We sat down with John Blas. He was responsible for the creative advertising behind such hits as Toy Story, Finding Nemo, The Incredibles, Monster's Inc., Cars, and many more.
For over 25 years, John Blas captured the attention of audiences within five seconds or less for HUGE companies like Disney, Pixar, and his own company, NCS Creative.
From billboards to television commercials to theatrical trailers and posters, he's done it all.
If you've ever wanted to learn how the professionals market big box office hits, you won't want to miss this article.
You Want to Grab Someone's Lapel at 55 MPH
As a creative director for some of the world's biggest brands, John always starts his advertising campaigns with billboards.
His job was to "grab someone's lapel at 55 miles per hour." Designing a billboard that can capture someone's attention in five seconds or less is no small feat.
To pull it off takes great attention and care to get the message across effectively.
Monsters Inc.
One piece of copy Blas is extremely proud of was his billboard for Monster's Inc. He used an image of Mike Wazowski, the lovable (and tiny) one-eyed monster from the movie.
The copy was catchy yet straightforward. "You won't believe your eye." Steve Jobs loved it so much it became the tagline on everything they did, including posters.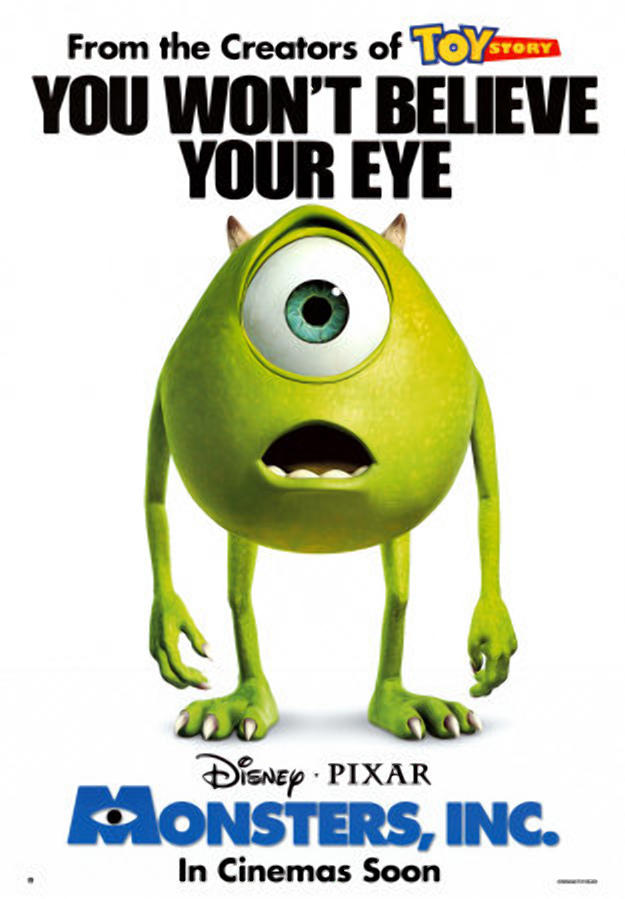 (Source) Cyber-Cinema
The Social Network
Outside the world of Pixar and Disney, he wrote copy for other live-action films, such as The Social Network, where he came up with the line, "You don't get to 500 million friends without making a few enemies."
The goal of grabbing someone's lapel at 55 MPH is all about getting across your message quickly, without ambiguity. Blas states, for a movie like The Social Network, he needed something that would represent the swagger and tone of the film. If you've ever seen the film, you know this copy does an excellent job of that.
Cars
Another example of when he used advertising to not only introduce a movie but also to boast a brand's relevance to power was with the Cars teaser poster.
(Source) Google
The movie poster wasn't just selling the movie. It was selling the Pixar experience. They were presenting themselves as the company you want to test drive in the theater. Pixar created the poster at the height of its rise above Disney as a brand for animated feature films.
Awareness & Interest
Blas states that the goal of entertainment marketing boils down to two things: awareness and interest. Awareness is all about brand recognition. Do people know your company or project exists?
After that comes the most important part — interest. Interest is what influences people to come to see a film. If you can't convey interest in five seconds or less, you're doing yourself a disservice and should rethink your advertising.
Presenting Your Pitch Deck: Use Grenades, Not Bullets
If you're presenting a pitch deck for your movie, get rid of the bullet points. It shows a lack of energy and focus. Instead, throw thought grenades. Cut out everything you can until it hurts.
If you can provide a pitch deck with one less slide and feel like nothing is missing, cut it! Always leave your audience with questions. You want them to want to know more.
Gone in 60 Seconds
Today, people's attention is gone in 60 seconds. So if you can't leverage people's attention, it's hard to influence them one way or another.
Whether you're an entrepreneur looking to enhance your brand or a filmmaker trying to pitch your hit film, the ability to catch people's attention quickly is paramount.
If you're looking for more great interviews like this one, make sure to follow The Art of Making Things Happen Podcast with Steve Sims.